Support for International Students
Together we sent a powerful message of solidarity and unity by having a supermajority of 2000+ graduate workers sign cards authorizing a union election in under one month! Our colleagues, friends, and coworkers called in a united voice for an election, and we have earned that election. Now every grad worker has a chance to ensure we have the power to fix the issues that inspired us to sign cards! The best thing you can do to strengthen the campaign is to join over 1000 of your colleagues and pledge to VOTE YES on election day. 
Today we are taking some time to highlight specific inequities facing international students, who represent over 30% of all grad workers here at Northwestern. International students are central to the university community, but tend to be more dependent on university work opportunities, and have additional visa and tax stresses. Support from the university or research groups is often extremely limited.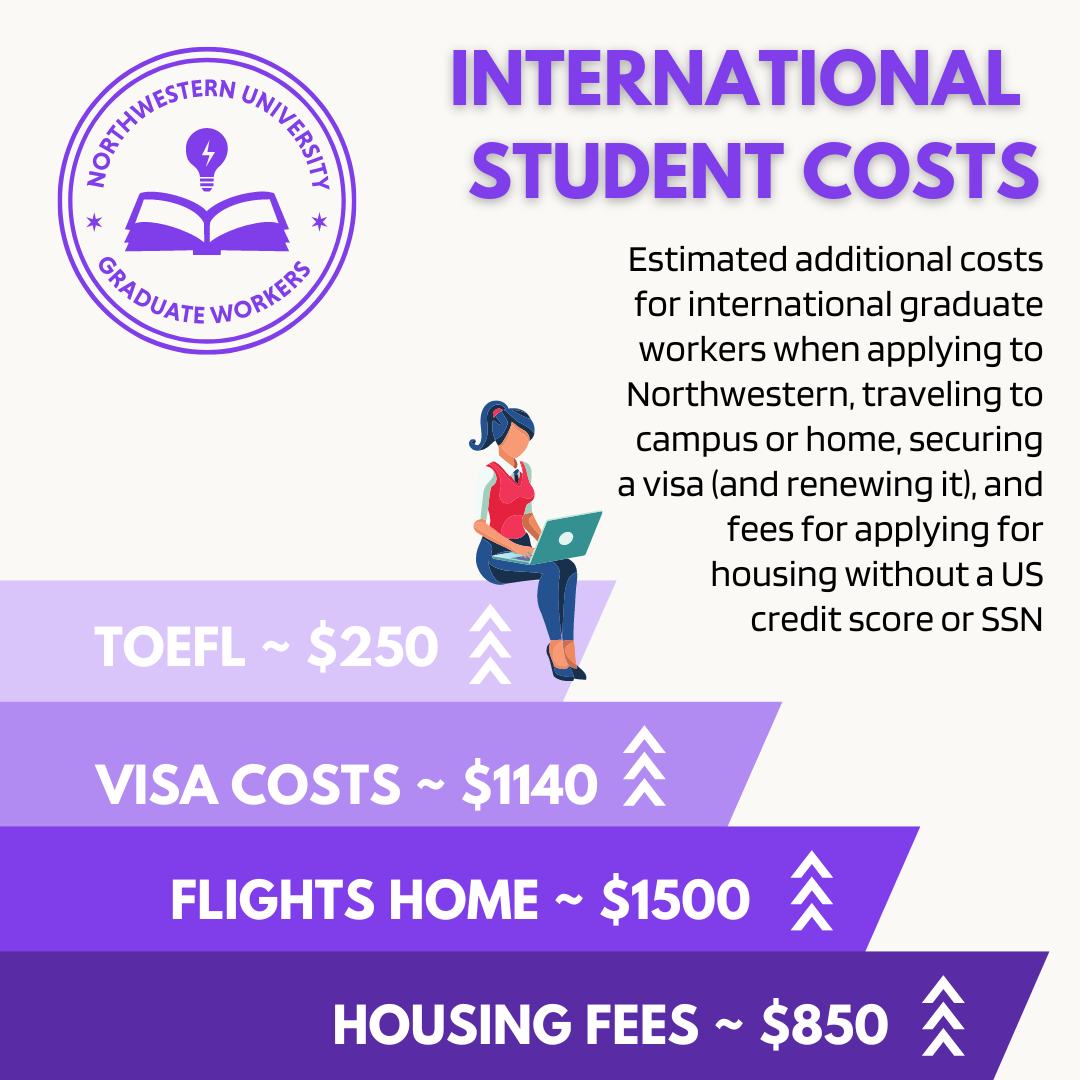 Before moving over, most international students pay at least $150 for an F1 visa, as well as a $350 SEVIS fee for first time filers. These fees are compounded by the more variable cost to travel to their nearest US consulate (~ avg $640), as well as travel to Chicago, and rebuying any large basic household items. International students also have to pay to take the TOEFL when applying to Northwestern, which costs an average of $250. These costs are all front-loaded before we have received any pay for the work we came to grad school to do! Couple this with higher travel cost for any trips home, and international students acutely feel the pressures of our stretched stipends. Options for offsetting these costs with extra work income are highly limited by visa restrictions, requiring competing for limited on-campus employment or navigating the logistics of Optional Practical Training (OPT) authorization. Thus, these costs are instead often covered with debt that follows international students throughout their degree, weighing on the already tight stipend budgets all graduate workers are dealing with.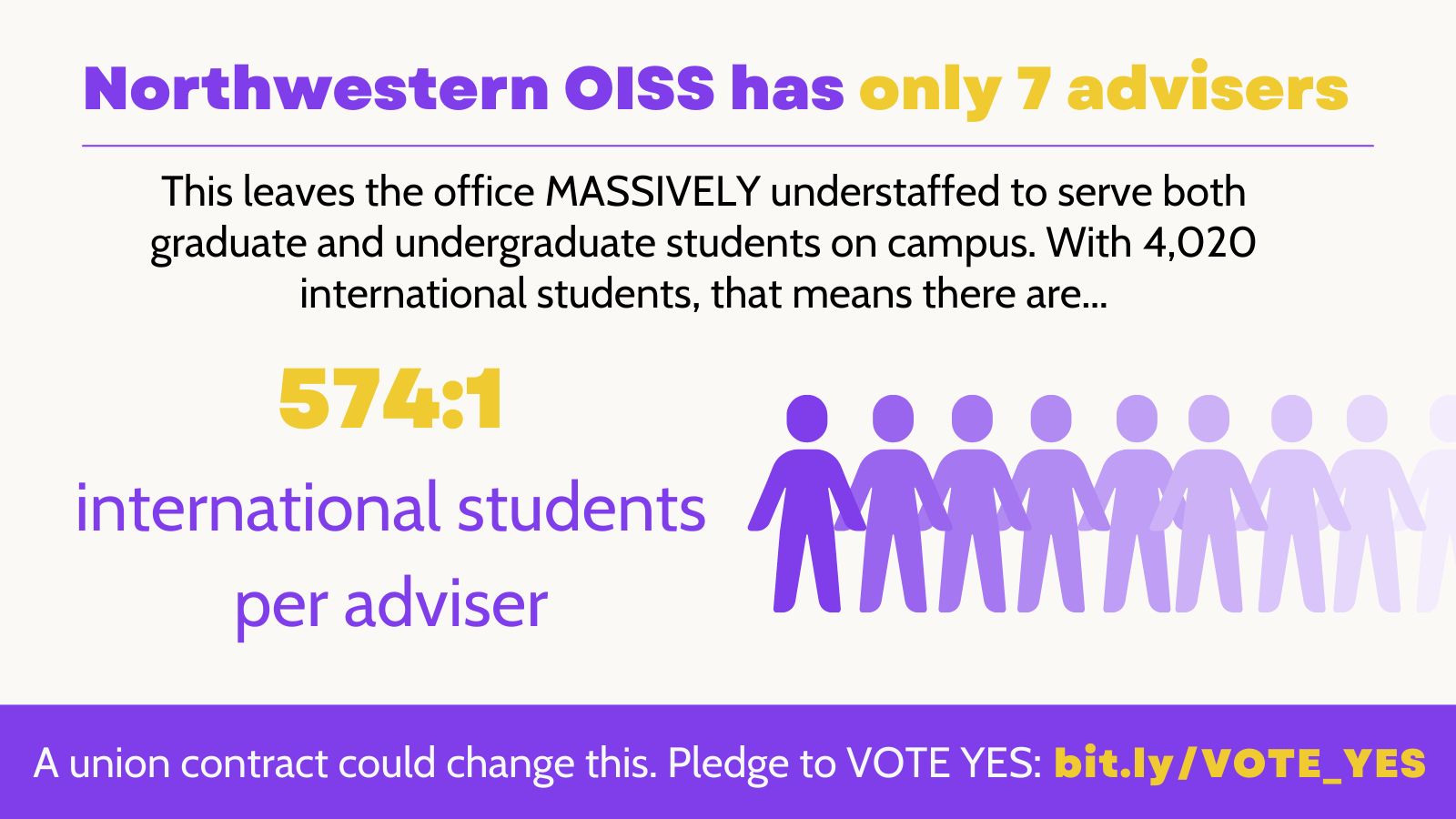 International students entering the US frequently lack Social Security numbers, which leads to housing precarity, as most rental applications expect an SSN and american credit history. Northwestern currently expects to be able to address these common and predictable challenges with 16 Office of International Student & Scholar Services staff and only 7 advisers for 4,020 undergraduate and graduate international students. That's 574 international students per adviser. The university simply does not allocate enough resources to support graduate workers effectively, and those oversights are particularly apparent in the situations faced by many of our international colleagues. Something has to change. 
How does a lack of international student support affect grad workers?
"I am an international student from China. On top of worrying about my rent and credit card bills, I also fear that I can't be with my parents back home should any emergencies happen to them. How can I afford thousands of dollars of round-way flights when I am only paid $2,300 a month? Northwestern should, and it has the financial capacity, to alleviate that fear in all international students' hearts, and together, as NUGW, we will demand that support through collective bargaining and a fair contract."
Qining Wang, PhD Candidate in Chemistry
"I came to NU for the first time in February as a visiting scholar, and I was back in September as a grad student. As a result, I had to pay the SEVIS twice (250€ for a J1 visa and 350€ for a F1 visa). I also had to pay twice for my visa (160€ x 2). I also had to go to Paris for that because it's where the US embassy is, so it's between 150 and 200€ each time I go (knowing that I'd have to go back to get a new visa every other year basically if I want to leave the US after my visa expires). To go back to where I live in France it'd cost me between $1500 and $2000 (to go back and come back). Since it's too much, to save money I have to do weird things like fly to Barcelona, which makes my trip much longer. It's all exhausting and stressful."
Marie Lamarque, PhD Student in IBiS
"When my PhD funding ended (Summer 2022) and I was about to enter my last and unfunded quarter in order to complete my dissertation, I was asked to pay $5,000 upfront for a full year of the student health insurance by the end of the month. Within ten days. There was no option to pay in installments, no prior notice and no possibility of opting out being an international student. When I pointed out that I would only need one quarter to graduate, I was told to still pay the entire amount and ask for a reimbursement for the remaining amount later. I found myself in a state of panic, desperately asking for help from the administration of Bienen who tried their best to help. If the former Dean of Students hadn't stepped in to help, I probably would have had to leave the country after nine years of studying and working here, because I wouldn't have been able to pay rent. Essentially, it would have destroyed my future here and my chances of staying in the U.S."
Niki Harlafti, PhD Candidate in Music
How a union can help improve international student support
International students are a vital part of the Northwestern graduate worker community and serve as leaders within NUGW.  That is why NUGW's platform contains international student support as a core demand. Other demands, like competitive pay, are even more important for international students, who often cannot even supplement their stipends with additional jobs because of visa restrictions. Other campaigns, like those at Harvard, Brown, and Columbia, have won:
International Student Assistance Funds to defray the cost of immigration and maintaining legal working status

Living wages guarantees on university stipends, so an international student working the legal max of 20 hours per week can remain financially secure

Clear, multi-language, explanations of department hiring and role selection practices, so international students don't miss out on work opportunities 
Each of these provisions and more can be won through collective action! International students are core to our departments, our labs, our classrooms, and our friends.  International students provide labor just as valuable as domestic students and deserve the same level of comfort and security at work.
We all have a unique opportunity to ensure that all grad workers, international or domestic, are secure in their studies, can avoid crippling debt, receive necessary legal and tax information, and can carry themselves with dignity. Our union will secure all of us a powerful collective voice that allows us to address big problems facing us and our colleagues.
Join that voice today
Have a question about unionization? 
Have questions about unionization or NUGW-UE? Explore answers to common questions on our website's FAQ page. You can also submit questions to the form below and a member of NUGW will follow-up with you directly. 
In solidarity,
Your Fellow Graduate Student Workers
NUGW-UE
Northwestern Works Because We Do - www.nugradworkers.org