Election FAQ
By

NUGW
|
December 20, 2022
NUGW Union Election Basics
We are having an election to ratify our Union and secure our collective power!
Come out and Vote YES for NUGW-UE on Jan 10 and Jan 11, 2023!
This is our chance to secure our collective power and earn real wins for grad workers!
Voting times and locations depend on your program, so make sure you plan to go to the right location and at a time that location is open!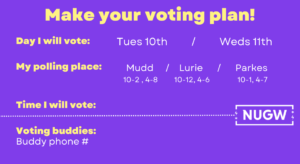 Lets build some good voting plans!