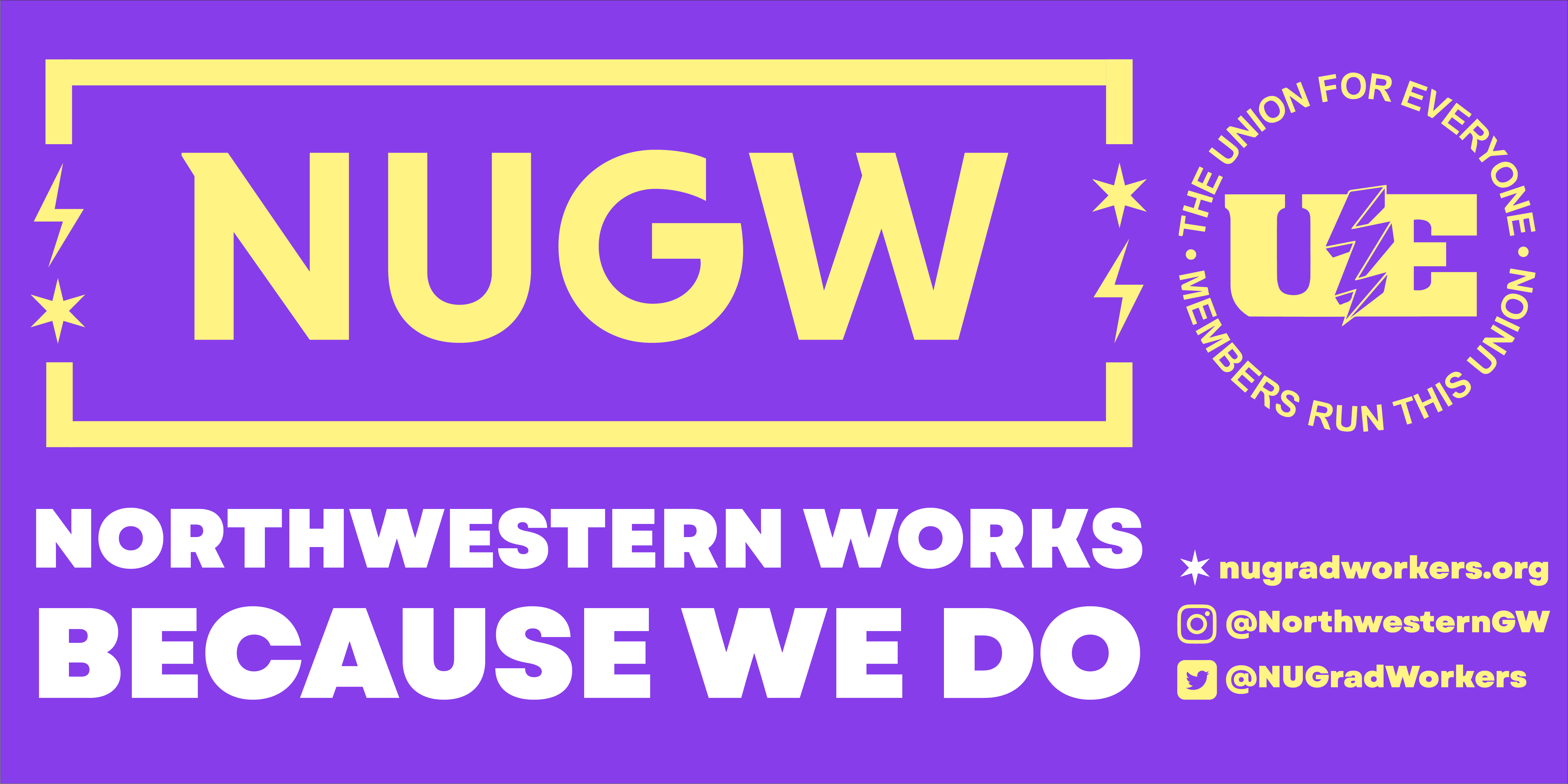 NUGW Launches Union Drive with UE
Today, October 6th is the official start of NUGW's drive to form a legally recognized union of graduate employees. Hundreds of graduate workers are coming together at noon on Deering Meadow to fight for More Pay & More Say. Northwestern graduate workers are organizing to make sure that we have the support we need to thrive and do the world-class research we came here to do.
You can help the campaign by signing your union card today! Thousands of graduate workers coming together to bargain will have the power to establish graduate education, labor, and life as an institutional priority.
To take this fight to the next level, NUGW has affiliated with the national labor organization United Electrical (UE), which has represented and aided major unionization efforts at MIT, Indiana University, and the University Of Chicago. Over the spring and summer of 2022, NUGW's Affiliation Committee researched the possibility of affiliating with national unions to ensure that we have the resources and expertise to power our campaign. After multiple rounds of interviews and info sessions, the NUGW Organizing Committee recommended United Electrical Workers (UE) because of their commitment to rank-and-file unionism, their experience with graduate workers, and their record of championing social justice and inequality. At the beginning of October, NUGW members voted overwhelmingly (>98%) to affiliate with UE.
With a union, we will bargain a union contract that secures:
Competitive Pay through Graduation Day
Professional Standards in Labs & Classrooms
Comprehensive Healthcare
Support for International Students
Power & Protection in our workplace
You can read our detailed platform here.
Here is what needs to happen for this to be a reality:
Submit the cards to the National Labor Relations Board to call for a union election.

Turn out our coworkers to win the union election!

Elect a Bargaining Committee and negotiate for better conditions informed by our platform and members' needs.

Vote to approve the first-ever contract for graduate workers at Northwestern!
Graduate unions have a long history of winning substantial improvements in living and research conditions for graduate workers across the U.S. We are not alone: our peers at New York University, Columbia, Harvard, Brown, Brandeis, and Georgetown, among others, have all won recognized unions and bargained contracts to improve their working conditions over the last several years. 
Let's join the movement, and make history at Northwestern: Sign your union card now!