July 3rd Bargaining Update
Third day of bargaining complete! 
TLDR
We reached two () Tentative Agreements today! Check for updates in the 

bargaining

 tracker.
Admin introduced counter-proposals that would remove protections for discrimination based on race, gender, and other protected classes from our proposed grievance procedure.
Hot off the heels of 

bargaining

 day , come to our CAT meeting today (at TGS Commons or on zoom) at 5pm for details and to strategize next steps.
We just completed our third bargaining session! We reached Tentative Agreements on TWO more articles (Agreement and Term of Agreement). We presented eight counter proposals total and Admin presented four. You can see all the text on our bargaining tracker. Our next bargaining session is in 3 weeks on Thursday, July 27th so stay tuned for future updates!
Keep on chugging along
Today, we also presented arguments about the importance of union security. Union security ensures universal union membership and dues for all bargaining unit members to maintain our strength and resources. We deserve this right which already exists for other unions on our campus. Union security is the only way for workers to have a long lasting institution with a powerful voice to protect our interests, and it is an issue we will continue to prioritize. 
Practice safe academics, use union protection 
At the beginning of this session, Northwestern admin presented us with their counterproposal for the Discipline and Discharge article. Their counterproposal included language that would omit work protections related to academic discipline even when academic progress impacts our job. 
As workers, we know that what we do often cannot be cleanly separated into "work" versus "academics;" during bargaining, we quickly compiled a long list of examples showing how across departments, our academic progress is often related to the research and instructional services we perform for the University. However, we are optimistic that Northwestern admin has heard our message and is beginning to understand how academics and work are closely intertwined, and that we deserve protections for all the work we do regardless of the name Northwestern attaches to it.
Drum up noise to let admin KNOW! 
Let admin know that you are an employee AND student through and through. Look for your coworkers doing walkthroughs in the coming weeks to collect interviews about your experiences. Join CAT this (and every) Wednesday at 5pm to get stickers and fliers to spread the word about the need for union security, and for admin to recognize our labor for what it is! CAT is in person at TGS Commons and on Zoom here.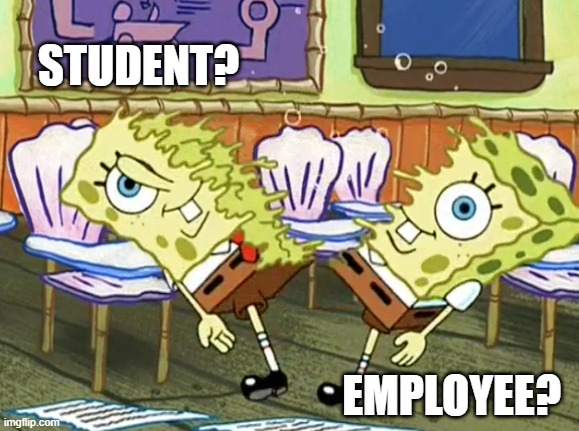 Signed, The NUGW-UE Bargaining Committee: Alejandro Abisambra (Management and Organizations and Sociology), Jade Basinski (Civil and Environmental Engineering), Maddie Brucker (Computer Science & Learning Sciences), Lawrence Chillrud (Electrical and Computer Engineering), Peter Cummings (Clinical Psychology), Adam Goldsmith (Communication Studies), Jack Hamill (Music), Reem Ibrahim (Interdepartmental Neuroscience), Lauren Johnson (English), Cataldo Lamarca (Materials Science and Engineering), Elisabeth Latawiec (Chemistry), Thomas McKenzie-Smith (Physics and Astronomy), Behailu Mihirete (Communication Studies), Ben Oxley (Chemistry), Summer Pappachen (Political Science), Sebastian Poblete (Economics), Andrew Poverman (Physics and Astronomy), Adrian Ray-Avalani (Linguistics), Jakob Reinke (Materials Science and Engineering), Mounica Sreesai (Anthropology), Drew Weidner (Chemical and Biological Engineering), Teke Wiggin (Sociology), Ruoxi Zhu (Electrical and Computer Engineering), Kavi Chintam (Chemical and Biological Engineering), Esther (Em) Kamm (History)